Super saving COMBO PACK comes with 1 STAINLESS STEEL keychain and 1 MINI TITANIUM keychain.
Share the KEYGOES love with your friends or family 🙂
Have you ever dined at a restaurant where the entree was just not tangy enough and there were no spices available?
This inspired us to create a product for the chilli lover! We want everyone to have access to chilli peppers anywhere, anytime, as hot as they like it! No compromises.
KEYGOES:CHILI MINI is a titanium capsule, while our original KEYGOES:CHILI is stainless. Both contain chilli powder hanging on your keychain. Chilli is sealed in an easily replaceable plastic container.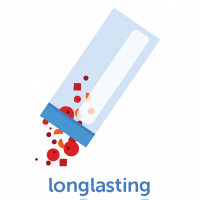 COMBO PACK CHARACTERISTICS
you will receive 2 keychains and 5 refills. Each keychain comes with refills with chili powder.
each refill (2 g/0.07oz) is good for spicing up, on average, over 100 meals/drinks. KEYGOES MINI uses half-size containers.
lifetime guarantee
50k+ keychains sold worldwide